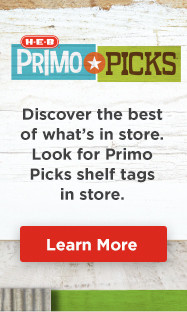 H-E-B Primo Picks
Quest for Texas Best Online Entries

H-E-B was grown in Texas, and we want to support the products and creations that have their roots in our home state.
H-E-B is always seeking to bring the best products to customers, but no one knows Texas tastes better than Texans. So we are scouring the state to find local businesses with the best products in Texas.
Is a future "Texas Best" product in your hometown? We want to know about the Texas treasures in your community. To show our commitment to our Texas heritage, H-E-B is on the hunt for the best products out there. But we can't do it alone.
That's why we're asking businesses to submit foods or beverage products between February 4 and March 18. H E B will review the entries, and four businesses will be selected and receive the title of Texas Best and prizes up to $25,000! Plus, the first place winner will receive a new Toyota Tundra!