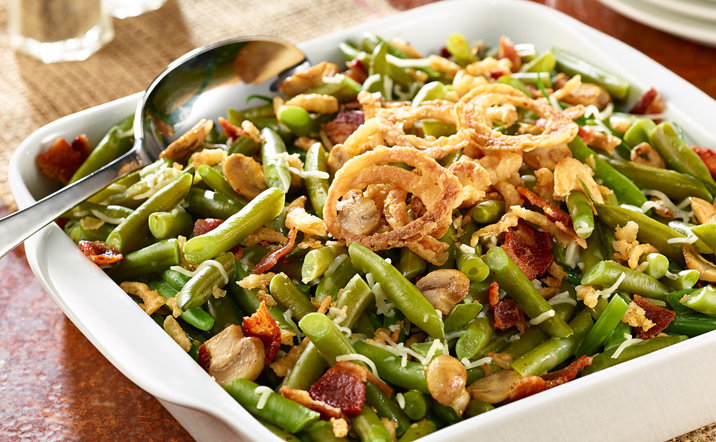 Make and Take: Thanksgiving Dishes that Travel Well
It's almost turkey time and even though you're not hosting this year, that doesn't mean that the pressure is off. No Thanksgiving feast would be the same without the small-but-mighty sides—we're looking at you, pumpkin pie, green bean casserole, and fluffy mashed potatoes. These travel-friendly dishes are easy to transport, so whether Thanksgiving is across town or just across the street, you're more than prepared for dinner to be served.

Potato Pros:
Cheese Please

Not only do these creamy, ooey-gooey scalloped potatoes have two kinds of cheese, they're easy to make and pop in the refrigerator until you're ready to bake. When you prep, just make sure to use a dish that's big enough to leave about a one-inch gap from

the top to avoid overflow.

Sweet Potato Casserole

With pineapple and marshmallows alongside fall spices like cinnamon and pecans, this oh-so-sweet side is one of the quintessential Thanksgiving dishes—perfected. If you're pre-cooking, leave off the marshmallows until minutes before it hits the tabletop.

Goat Cheese Mashed Potatoes

Creamy, garlicky and the perfect turkey dinner companion. Everyone will love the gourmet flavors from the roasted garlic, goat cheese and European-style butter. Just reheat in the microwave before transferring to a serving bowl.
The Old Standby - Best Ever Green Bean Casserole

Green bean casserole topped with crispy French-fried onions is a family favorite year after year and this tried-and-true version is no different. Ultra-easy to assemble, whether you pre-make this dish or prep at your destination, prepare for every last bite to be taken.

Add a Kick - Spicy Green Bean Casserole

It only takes a dash of cayenne pepper to take the traditional to new (spicy!) heights.

Travel-Friendly Pumpkin Pie
Easy as Pie

No turkey day would be complete without pumpkin pie, but whether you're baking up a

traditional version

, or opting for a

no-bake option

, how do you take it on the road without it becoming cratered? Try placing it in a larger plastic container or a deep dish wide enough for the pie to sit in.

No-Fail Pumpkin Squares

When baking for a bunch, the last thing you want is to worry about the outcome of a dish. Enter these no-fail pumpkin squares, which will delight any crowd big or small—after all, it's in the name.
Looking for more easy Thanksgiving sides? Browse all H-E-B Thanksgiving Recipes.