The number of items in your shopping list has exceeded the maximum limit. Please remove some items, or create a new shopping list.
Fruit and Vegetables
What's in Season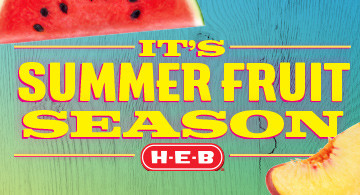 Find seasonal top produce picks at your H-E-B Produce department.
See Seasonal Produce
Freshness Guarantee
You'll always find the freshest fruits and vegetables on display at your H-E-B. We're so confident in our produce that we offer a 100% Freshness Guarantee on every produce item you purchase. If your fruits and vegetables aren't completely fresh, ripe, and delicious, we'll be happy to replace your item or offer you a full refund.