H-E-B ExCRABaganza Crab Guide
Celebrate all things crab at the H-E-B Seafood Department. Learn about each species of crab and cook our tasty coastal eats.
Southern King Crab
• Wild caught from the southern tip of Argentina in the clear waters of the South Atlantic
• Sweet flavor and delicate texture
• Ready to eat; Just thaw & serve. Great tossed into a cold pasta.
Alaska King Crab
• Wild caught off the Aleutian Island chain to the Bering Sea
• The largest & most impressive crab; The King of all crabs
• Ready to eat; Just heat, serve and dip in butter
Snow Crab
• Wild caught in Northeastern Canada out of the Gulf of St. Lawrence
• Named for their sweet, delicate, snow white meat
• Ready to eat; Heat & serve or great in a bisque
Dungeness
• Wild caught in the Pacific Northwest from Northern California to Washington
• A treasured West Coast delicacy
• Ready to eat; Commonly used in salads and crab cakes
Blue Crab
• Wild caught in the Sea of Cortez — also known as the Gulf of California
• Area known for extra-large size crab
• Cleaned and ready to cook in your favorite gumbo or stew
Jonah Crab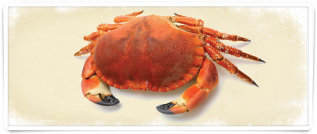 • Indigenous to North America and fished off the shores of Maine, Rhode Island and Massachusetts
• Sweet flavored claws with a slight salty finish
• Ready to eat; pre-cracked claws make it easy to get the meat out; heat and serve or use in crab cakes, salads, or bisques
Blue Soft Shell Crab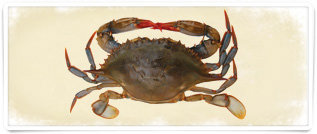 • Wild caught in Maryland's Chesapeake Bay area
• Soft shell crabs are harvested before they grow a new shell, which makes it possible to consume the entire crab
• Best eaten pan fried with a flour mixture of salt, pepper and Old Bay seasoning
Easy Italian Crab Meat Tomato Bisque
Make this easy recipe and bring the good taste of flavorful tomato and seafood soup to your table. Add a salad and bread and you've got a satisfying meal sure to become a family favorite.
Watch Video
Crab Cakes
Chef Charlotte shows how to make zesty Crab Cakes with chili lime seasoning, pico de gallo and tortilla chips for a TexMex twist!
Watch Video